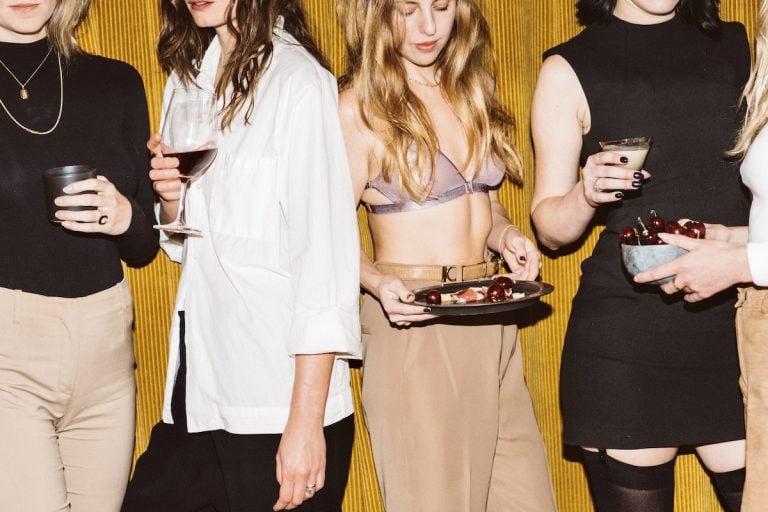 She's absolutely in contact along with her sensuality, laughs simply and loves lovely issues, and has a magnetism that may solely be possessed by the few who aren't attempting… Am I describing the muse who impressed Elle's Boutique, or the proprietor herself, Elle Florescu? You resolve. Typically, there's a founder who so embodies the model they've created that it's laborious to know the place one stops, and the opposite begins.
Florescu opened the doorways of Elle's Boutique, the Austin-based store celebrating "a contemporary illustration of delight and intimacy" originally of the pandemic, and seems, a yr when everybody stays residence isn't a nasty time to launch a model that speaks to extra intimate pursuits. Of designing the house, she first imagined how she needed individuals to really feel after they walked by means of its doorways.
"I needed the house to really feel like a Milanese front room from the Nineteen Seventies—although it's a retail idea, I needed it to really feel like a relaxed gathering the place individuals felt impressed, curious and playful. There may be all the time a pleasant bottle of chilled rose, a titillating ambiance, and the promise of evocative dialog."
To have fun a season of festivity, Elle invited a couple of mates to the store for a holiday cocktail party with easy but decadent bites, spiked eggnog, and seasonal revelry. Scroll on for the stylish social gathering particulars (together with that olive oil cake recipe) and her secret to an amazing gathering. Trace: it entails journey.
How do you approach hosting a gathering?
For me, it's all about variety—I enjoy bringing different minds together. I'm sincerely not much of a planner, but the beauty of our location is that we reside next to some favorite local restaurants. I can seize scrumptious cheeses and charcuterie from Swedish Hill or a dozen oysters from Clark's throughout the road. By way of drinks, we wish to batch a cocktail for particular events; in any other case, it's simple cocktails and rosé.
Tell us about the Elle's Boutique bungalow—it's such an incredible space.
The bungalow was built in the 1930s, and it looked entirely different when we first acquired it. Given its limited footprint, we needed to dress it with a sense of grandness, so we lifted the ceilings, took down most of the walls, and installed skylights and arches.
The form is defined by the different emotional experiences I hoped to elicit in each interior space. In the main room, I wanted clients to feel curious, playful, and comfortable, which is why we designed it to feel as much like a living room as possible.
Much of the inspiration came from Milan-based architect and designer Vincenzo De Cotiis – the daring colours, the wealthy textures, the customized furnishings. We used a deep blue blackish plaster for the principle retail house, a terra cotta plaster within the kitchen, each by Sloan Houser. The furnishings was predominantly customized or classic sourced. In the principle house, the pendant gentle is a Poulsen sourced from Sputnik in Dallas. Two suede LC3 chairs are by Le Corbusier for Cassina that I discovered on 1stdibs. The 4 burgundy Cassina cab chairs had been handed right down to me by my mom.
The dressing room was designed to be a space of security, sexiness, and luxury. I wanted people to relax in this space, not feel rushed. The lighting, the custom-designed mohair couch, the luscious shearling rug all contributed to this sense of sensual performance. There are no overhead lights, the mirror is backlit to create a flattering glow and all the lights are on a dimmer. My favorite element of the entire space is the paint utilized in the dressing room. The light reflects off a high-gloss lacquer red paint from Fine Paints of Europe to create a luminous glow. A vintage bar cart that's always stocked keeps people relaxed and entertained. All the senses are intended to be engaged here.
What does a great gathering look like for you?
Adventure in the form of conversation or activity. I like a gathering to either be rooted in something very specific, or completely nonchalant. Either way, a gathering should be considered. If anchored in an activity, it could involve an outdoor paella picnic, a great meal after a planned group bike ride, or gambling over dice.
Walk us through a typical day for you.
I typically wake up around 8:00 and roll around in bed, snuggling with our two dogs. I love this time in the morning; I feel calm and peaceful. My fiancé Larry puts on a record and we have coffee together on our patio, in our two chairs. This ends relatively abruptly when I realize I am running late for something—a workout, a meeting, etc. I certainly don't have a workday uniform; the same applies to anyone who works at the boutique. Freedom of expression is hugely important to me. Sometimes it's baggy trousers and a t-shirt, sometimes it's a form-fitting leather dress. My mood informs my attire, and it can range anywhere from androgynous casual, to salacious, to mismatched socks.
Nearly every day is different, and it's what I love most about what I do. Usually, I try to accomplish both a bit of creative work and a bit of begrudging work. The mornings begin with a design or development meeting of some sort—I am currently involved in a bar project with MML that is slated to open in March and a hotel concept in Aspen. Afterward, I head to the store to touch base with my team. We'll review inventory needs, marketing initiatives, upcoming photoshoots, event bookings, and depending on the year, have a zoom market appointment with a vendor. In the afternoons, I try to set aside a chunk of time to get into Quickbooks, financial plan, and catch up on email. I enjoy being in the store late afternoons & early evenings to see clients and chat with friends who swing by.
Evenings are spent cooking at home and relaxing with Larry. Or, if he's in the middle of a restaurant opening, I'm likely at the restaurant with friends for the tenth night in a row. I tend to vacillate between extremes–there is rarely an in-between.
What do you drink and eat in the morning?
Coffee or lemonade, but mostly lemonade. I swear I am the only adult ordering lemonade at Swedish Hill in the morning. I'm not really a breakfast person, but if I am hungry, I rummage around in the panty for some nuts or beef jerky. I know, I have bizarre breakfast habits…
What are 3 products you love for the table?
I love the subtle elegance of Tracie Hervy ceramics and Carriere Freres candles. Heather Rosenman from LA additionally creates these exceptionally beautiful vases. She's an extremely proficient artist impressed by historical Cycladic figures. I'm drawn corporeal nature of her items; I discover them magnetic.
What's your must-have cooking device?
A reducing board and a pointy knife. They are often without delay useful and exquisite.
Your favorite cookbook?
The River Café London, the Thirty Years of Recipes version. The recipes themselves are impressed and easy, and the cookbook is a love letter to the restaurant that Ruth Rogers and her now-deceased accomplice, Rose Grey, constructed collectively. It's a chronicle of their reminiscences, victories, and joys. Each time I learn Ruth's letter within the foreword, I can really feel her ardour for her beloved accomplice and buddy, and the wonderful journey they embarked upon collectively. It's actually a narrative of friendship and journey.
What's going to we all the time discover in your fridge?
Arugula, Parmesan, Olives
What scares you about entertaining and why?
I've always been at ease entertaining. I am the product of a big, frenetic, messy family. Both my parents are big entertainers – my mom hailing from a wild ass Texas family and my dad, from a large, boisterous European family. Being raised in the chaos of this dynamic, I grew accustomed to entertaining spontaneously. I grew up making charcuterie boards with them and even bartending their events. It has all the time felt pure.
Your signature drink or dishes for gatherings?
Tomato-Poached Fish with Chile Oil and Herbs
What's one tip for someone who wants to host a gathering on a budget?
Keep things simple & elegant. The ambiance is much more valuable than things. Lighting is paramount. Candles, good music, bottle of wine.
Favourite dialog starter?
"Should you didn't know me, what would you assume I do for a dwelling?" A buddy just lately informed me he'd assume I work the ground at Zumiez.
The perfect dinner party playlist includes:
D'Angelo
Go-to centerpiece solution:
A burlap runner with a wild assortment of cut flowers. I love a natural, tonal centerpiece – one that incorporates the nearby elements.
What is your no-stress party rule to live by?
The more at ease the host, the more at ease the guests.
Dream dinner guests?
Sally Mann
Robyn Davidson
Jane Jacobs
A perfect meal should…
…always start on the later side.
It's not a party without…
…some characters.
Every host should know how to…
…make someone feel comfortable.