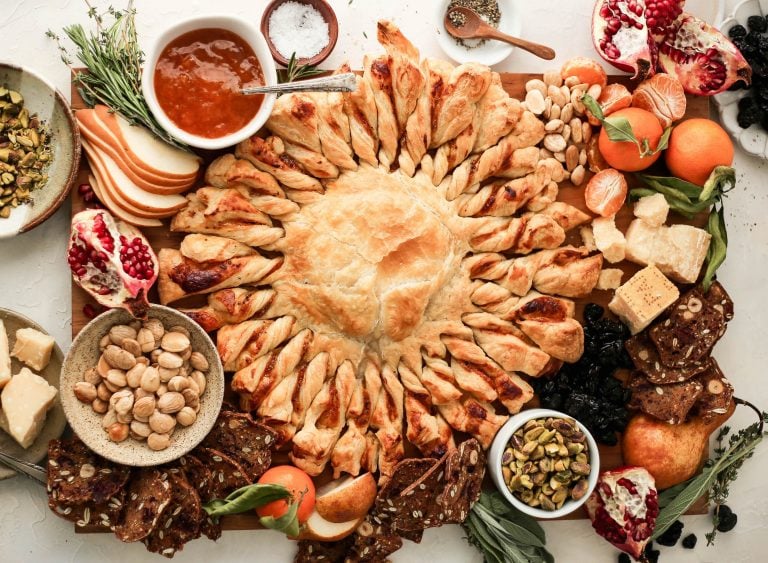 The vacation season is already in full swing and I, for one, get a thrill once I hear Mariah Carey singing All I Want for Christmas on my grocery retailer run. In the case of the vacations, I take a maximalist strategy—Exhibit A! It's the time of yr the place on a regular basis moments are infused with a particular high quality, and we revel within the pleasure of spending time with these we love essentially the most. Since most of our holidays appeared a bit of totally different final yr, it feels particularly thrilling to have fun the return of some traditions whereas adjusting to some new ones as effectively. One custom that I'm very excited to proceed? A stellar cheeseboard upgraded for any form of gathering we may be internet hosting this season. Y'all know I really like a cheese board, and I'm all the time on the lookout for enjoyable methods to make them really feel new and particular, particularly this time of yr. So for this yr's model, I discovered inspiration within the all the time show-stopping Tarte Soleil.
This French-inspired puff pastry dish all the time has enjoyable and fascinating filling mixtures. Whether or not candy with a chocolate unfold or cinnamon roll filling or savory with tomato sauce or pesto, the choices are really infinite in terms of this extremely straightforward Christmas appetizer.
I wanted to play around with a sweet and savory version that would pair nicely with the other bites and nibbles I was serving for gatherings this year. So I grabbed my favorite jar of apricot preserves and sprinkled on a hefty serving of fresh herbs and spices that I personally think complement the sweet apricot perfectly. And to take things truly over the top, I stuck a wheel of brie into the center of the pastry to get all melty and gooey.
While the end result may look fancy, it couldn't be easier to pull together and you just need a handful of ingredients to make this recipe.
The puff pastry is obviously the base of everything here, and after messing around with my fair share of puff pastry treats, I have a few tips and tricks to help y'all out.
Work with COLD pastry. Warm puff pastry becomes sticky and next to impossible to use, in my opinion. So work quickly and methodically to make things as easy as possible.
To roll out puff pastry, I've found that using floured parchment paper on the top and bottom of the pastry helps prevent sticking as well.
Sticking to the cold pastry theme, I will roll out my puff pastry as needed and then keep it in the parchment paper in the fridge until I'm ready to use.
Once your pastry is assembled, I highly recommend sticking your finished ensemble back in the fridge or freezer for at least 10 or 15 minutes. Like pie crust, this will help your pastry dough keep its shape, and when you place cold pastry into the oven, the temperature shock helps it puff more.
The combinations are endless when it comes to this recipe. Here are a few that I'm excited to try this season:
Goat Cheese and Pesto
Olive Tapenade or Onion chutney and Parmesan
Garlic Butter and Tomato Sauce with Mozzarella
Chocolate Spread with Sugar
Serve up on its own as part of your Thanksgiving appetizer table, over the holidays when guests stop by, as part of a giant cheese board, or on a Wednesday night. Happy snacking!