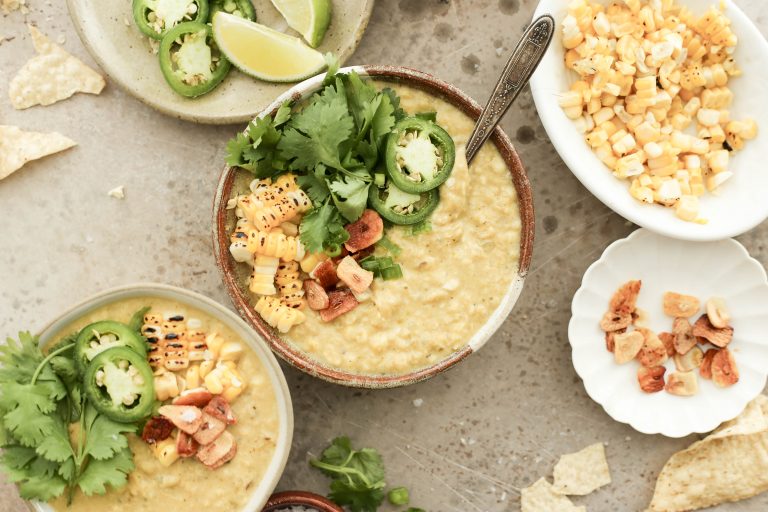 This time of 12 months at all times looks like we're in limbo. Between the launch of everybody's favourite pumpkin spiced drink, Halloween candy filling grocery retailer cabinets, and the climate nonetheless clinging to 80 levels or extra, the joy of fall mixes with the previous couple of dog days of summer. Personally, fall is my favourite season—primary, I do know! And whereas this upcoming season would possibly nonetheless look a little bit totally different than many people deliberate for, I'm heading into fall with a grateful mindset. I reside for the comfortable vibes and films, the spiced desserts, all of the upcoming holidays, and the prospect to revisit a few of my favourite autumnal recipes. Talking of recipes for the season, as a lot as I reside for the return of all issues pumpkin, what I'm actually enthusiastic about is soup season! And I assure this spicy vegan corn soup might be on weekly rotation for you too.
Soup simply may be the best and most scrumptious recipes to have in your repertoire. When you get the essential formulation down, it's simple to experiment and mix-and-match with any components you might have available. With this limbo season in full swing, I began experimenting with key summer time components in soup kind. One thing warming and spicy, with a nod to summer time because it involves an in depth. And this corn soup is strictly what I used to be on the lookout for to bid her farewell and say a giant good day to fall!
This is a one pot wonder of a soup. In my world, the fewer the dishes the better and all this takes is one large dutch oven to cook everything in. Corn is one of my favorite summer ingredients, and the sweetness of the vegetable is just so perfect. My one qualm with most corn soups though is that they can sometimes lean too sweet. So, I wanted to balance that out with a hefty kick of spice that makes this a very warming bowl of flavor that's perfect for fall soup season as well.
The spice comes from the jalapeño but at the last minute I decided to add in some sriracha as well. This really helped kick up the heat factor and the acidity helps to cut through the sweetness. To round out the warmth, I also added in some roasted poblano which is one of my favorite flavors in all things dips and soup.
If you've never roasted poblanos before, here's my trick:
Place peppers onto a sheet pan and drizzle with olive oil. Bake in the oven at around 400 degrees F until blistery on both sides, about 30 to 35 minutes. Remove from the oven and place in a bowl and cover with a plate for about 10 minutes. The steaming helps make it easier to peel off the papery skin that you don't really want to eat. Take the peppers out, peel off the skin, slice off the stem and remove the seeds. Then you chop up the peppers and add them to whatever dish you're cooking up! Roasted poblanos are one of my favorite ingredients to add to soups, salads, and even mixing into hummus.
I kept things vegan by using coconut milk to add creaminess and richness. The coconut flavor also compliments the sweetness of the corn while balancing out the heat a little bit as well.
When it comes to blending the soup I'm all about the texture. I don't like smooth soups. They're just not as filling as something that's hearty and thick. So I only blend about 1/4 of the soup until smooth, blend about 1/2 until thick and textural, and leave the last 1/4 whole. This is entirely up to you and your preferences, but again, I love the texture of the ingredients in here and didn't want it be completely smooth.
For the topping, I added some fresh roasted corn that bursts into sweet bites, some crispy garlic chips for some crunch along with some tortilla chips, and fresh herbs for brightness. You could add some avocado, shredded chicken, and some crema if you wanted to.
This soup keeps really well in the fridge, so just store in an airtight container for a quick and hearty meal throughout the week. The options are endless, and you can totally adjust this recipe to your preferences. Enjoy!