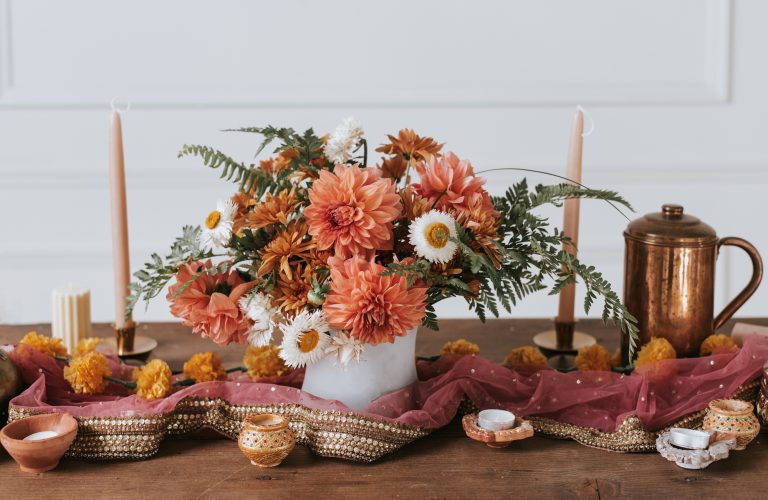 The vacation season is upon us, and whereas most individuals are excited to leap straight to candy slices of pecan pie and comfy Christmas vibes, the official kick off to my vacation season begins with Diwali. Typically known as the pageant of lights, Diwali has at all times been a particular celebration for me, however has turn into ever extra so over the previous few years. I grew up celebrating at dwelling with my dad and mom and household associates, lighting diyas, doing puja, making rangolis, and consuming far too many barfi's from the kitchen desk. A celebration that represents the triumph of excellent over evil in Hindu mythology, I've come to be taught and expertise so many ways in which Diwali is widely known all through the South Asian diaspora.
How I grew up celebrating Diwali could be barely completely different from another person's traditions. And now that I'm celebrating the pageant away from dwelling, I've come to comprehend how a lot my very own fashion at the moment influences even the traditions that I grew up with. After I take into consideration the vacation, I can actually style the poori's and aloo sabzi my mother makes and the candy spoonfuls of kheer and halva that my dad so tediously makes as a result of that's custom. I can at all times image the 4 of us carrying round trays full of diyas that we place across the doorways and outdoors within the chilly fall evenings after doing puja.
As I thought about how I wanted to celebrate this year, I came back to the first time I celebrated Diwali with people outside of my family. A couple years ago, after mentioning I'd be celebrating with my family over FaceTime, one of my best friend's, Kristin and her husband Mark, offered to come celebrate the festival with me at my apartment in Minneapolis. Kristin made aloo tikki's from a recipe she found online, and she and Mark made rangoli's on my kitchen island with colored sand while they sampled a variety of barfi's I picked up from the Indian grocery store that weekend. We FaceTimed my parents to make sure we were doing as many things as close to tradition as possible, but made some liberties as well. It might not have been the most traditional celebration, but to this day, it stands out as one of my favorite memories of the holiday—celebrating with my family (virtually) and with close friends in person. It was a true mash up of the tradition I grew up with and the new ways that I could celebrate the festival with the people in my life now.
So, for this year, I wanted to pay homage to that memory with a beautiful tablescape and menu that did just that—honor the traditions I grew up with at home while incorporating new ideas that make the celebration special for me now.
On setting the table
I didn't grow up attending dinner parties that had table settings and places for people to sit around. When we went to family friends' house, it was always buffet style on the kitchen island or dining room table, and the aunties, uncles, and kids would all take their plates around the house to sit and eat together. This applied to weeknight dinner parties, Superbowl Sunday, and celebrations like Diwali. So, to celebrate, I wanted to create a filled-to-the-brim table that was an ode to those parties. No seated table settings, just the food I love with a little ambiance.
To make this special for the occasion, I grabbed some blooms from the flower market in my go-to celebratory color scheme for Diwali—pinks and oranges, etc., and used a marigold garland to run down the middle of the table. For the table runner, I actually used one of my dupattas that added a little sparkle to the table and made it feel like a special celebration. I set all the food platters and bowls around the table and let guests help themselves. Food, in my opinion, makes for the best table decoration.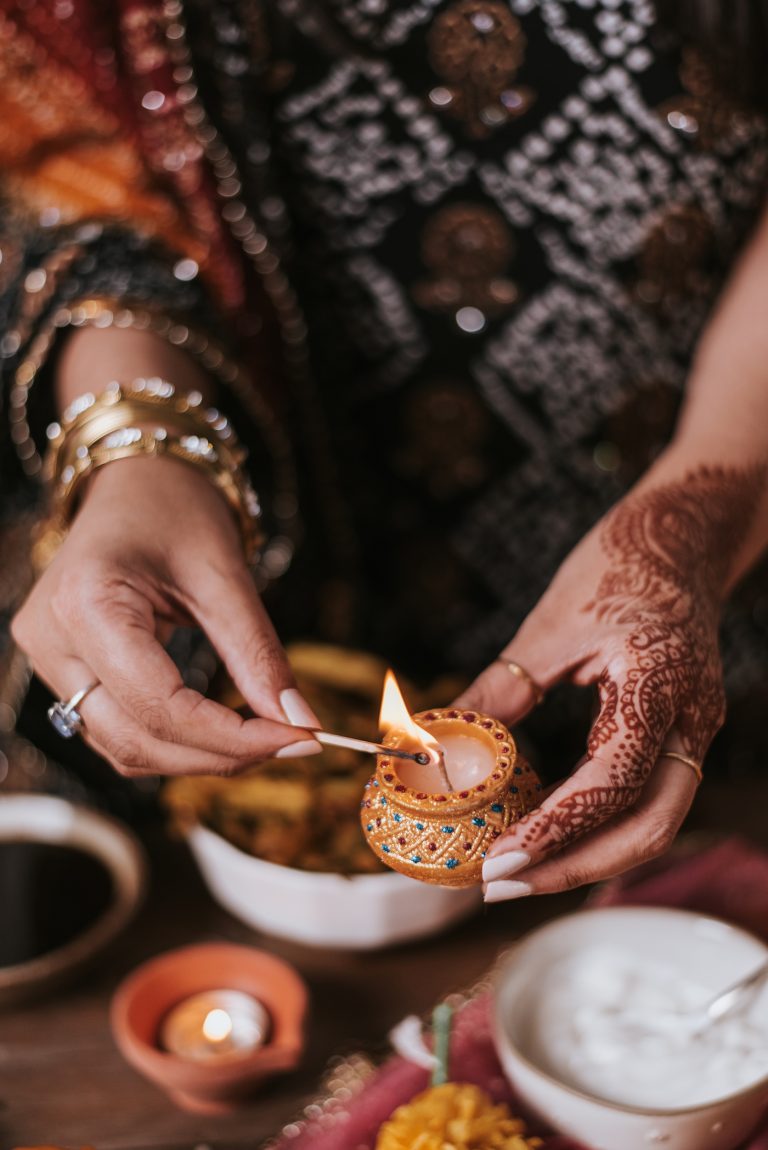 The ambiance here is all from the diyas. Diyas are these tiny candle holding lamps that are usually made from clay, and sometimes decorated for celebrations like this. Some come with candles already in them, and others will hold tea candles. For Diwali, diyas are used auspiciously and are lit to represent the victory of light over darkness, bringing light to all corners of our homes. I used every diya I could find and placed them around the table for the celebration—a true representation of a tradition I grew up with.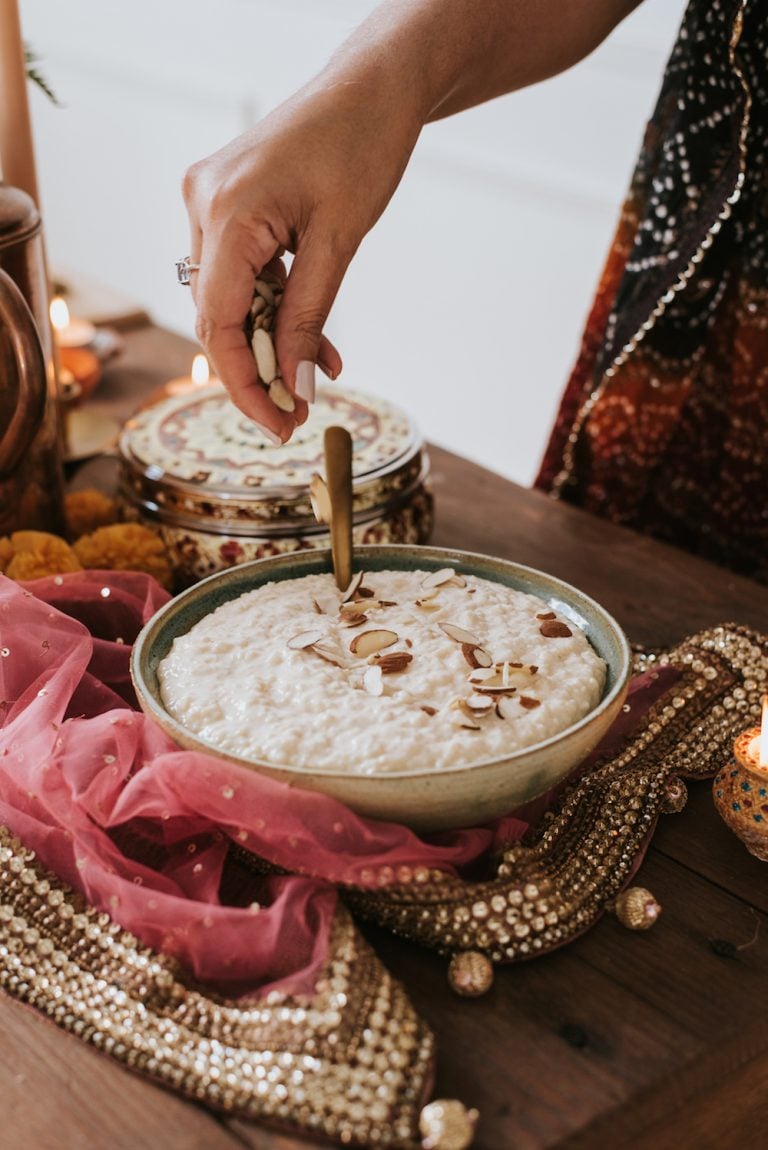 My Diwali Dinner Party Menu
I wanted to keep things simple with a menu that I was super comfortable with. Like they say, parties are not the time to try new recipes in your repertoire. And for me, our celebrations are an ode to the food that brings people together. The food is also a way for me to feel like my mom and dad are around even when we're celebrating a thousand miles apart. When I bite into a crunchy and savory pakora, I almost feel like my mom has made them herself, and tending to a pot of kheer over the stove made it seem like my dad was right there in the kitchen with me (making sure I'm not burning the milk on the bottom of the pot, of course!).
Here's what I had on the menu:
Papdi Chaat — My absolute favorite. Chaat is a category of Indian snacks that are made from a base like puffed rice or even a samosa, lots of sauces, crunchy toppings, vegetables, and spices.
Vegetable Pakoras — A go-to recipe I've learned from my mom. Get her recipe here.
Dad's Kheer — A candy rice pudding dessert.
Mithai Platter With Mother's Gulab Jamun — All of the sweets as a result of it's not a celebration with out one.
Masala Chai — If , .
You might remember my Diwali dessert platter from last year. Mithai, Indian sweets, are at all times my favourite a part of any celebration, so I needed to create one other platter stuffed to the brim with a few of my favourite barfi's. To me, no desi celebration is full with out serving sweets. This 12 months, I used jalebi's, kaju katli's, peda, chocolate and pistachio barfi's, and gulab jamun to fill my platter. I maintain little cookie packing containers by the door so folks can pack a field of mithai on their manner out. Ending a celebration with a little bit goodie bag is my go-to trick for leftovers plus, it provides your friends a little bit one thing to snack on whereas they drive dwelling.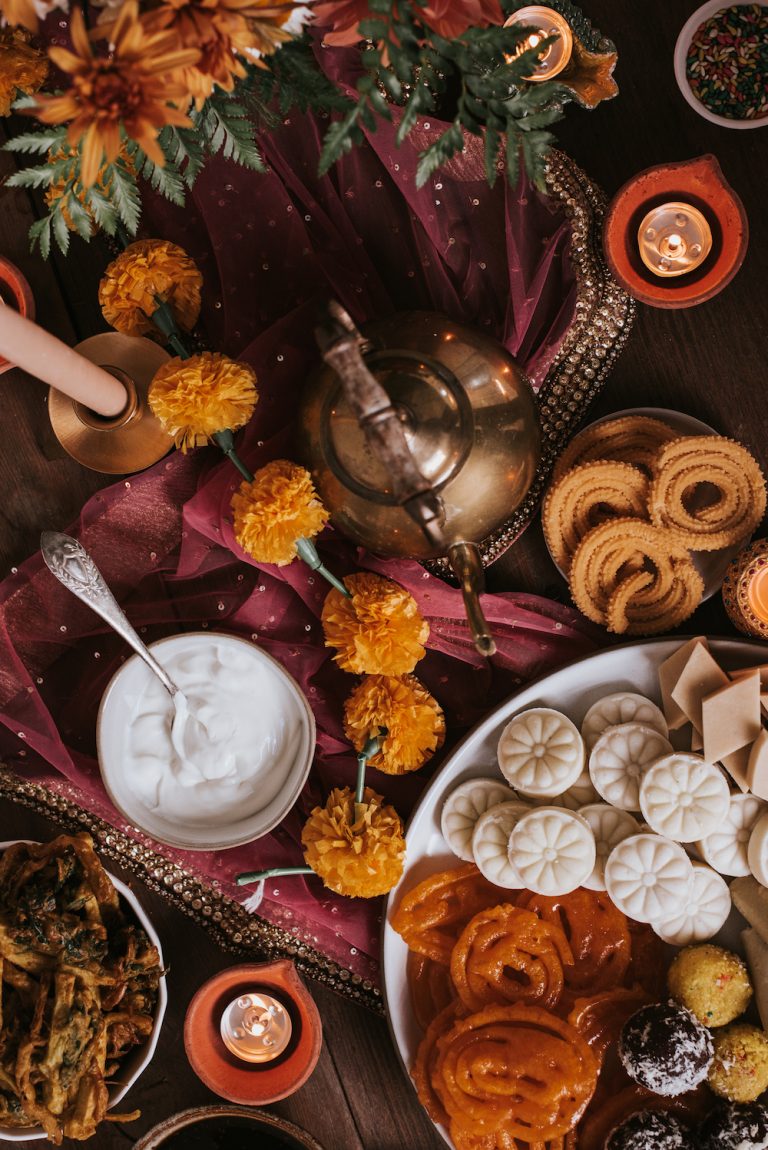 To celebrate this year, I invited my friend, Kristin to join me at the table. It was fun to reminisce on our first time celebrating Diwali together a few years ago and catch up on how much has changed in both of our lives even in just the last couple of years. Her baby George also experienced his first Diwali celebration! That's what celebrations like Diwali are about for me, after all. It's getting to see friends and family, catching up and having fun, eating good food together, and enjoying the celebration.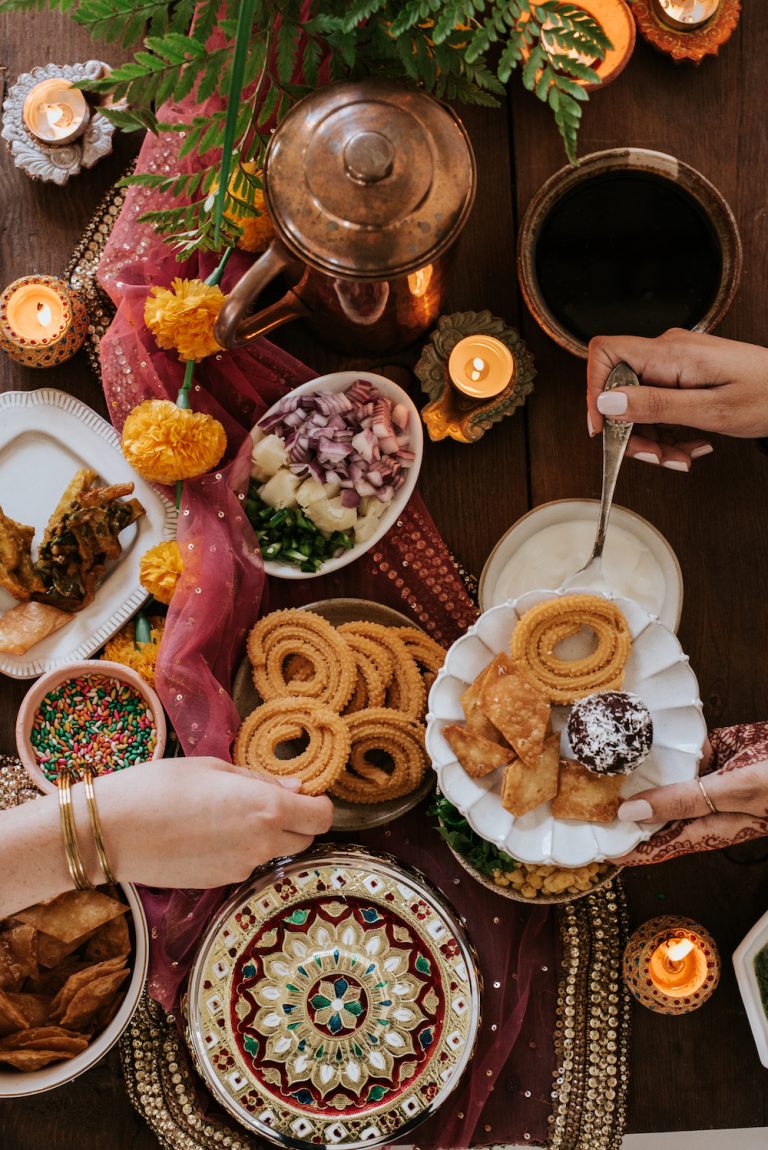 Let's chat about chaat.
Chaat chaat chaat! When we would attend a family friend's party growing up, one of my mom's friends would make a big plate of chaat to eat and it would be gone so fast. Even the second tray she made would go just as quickly. It's a true party trick meal. You can prep everything ahead of time and store in serving bowls, and then set everything out at once so people can make their own bowl of chaat, kind of like a DIY chaat bar. When my mom visited Minneapolis a few years ago, we invited Kristin and Mark over and she made a huge tray of chaat to share with both of them. It was fun to recreate that meal at this special celebration. Papdi chaat is a few component pieces that come together to create what I consider flavor magic. Priya Krishna wrote one of my favorite articles on Bon Appétit all about chaat.
The bottom. Papdi's are a kind of fried cracker that function a base for the chaat. Rising up, my mother has at all times used white flour tortillas from HEB, chopped them up, and fried them to create papdi's since we didn't have an Indian grocery retailer close by. It's a kind of tremendous apparent examples of adapting to your atmosphere to hold on a convention. Identical however completely different. In order that's what I did right here. I grabbed some white tortillas from the shop, chopped them, and fried them for the bottom.
The toppings. The go-to system for toppings I grew up on are as follows: microwaved potatoes which might be chopped up, chopped purple onion and jalapeños, soaked and strained boondi, chopped cilantro and typically mint, yogurt, tamarind chutney, mint chutney, chaat masala, and bhuna jeera. Some folks will add issues like pomegranate seeds, chickpeas, or sev, however this has at all times been my go-to mixture of substances.
These can all be combined collectively directly and served instantly, or served in particular person ingredient bowls so friends can assemble and blend themselves.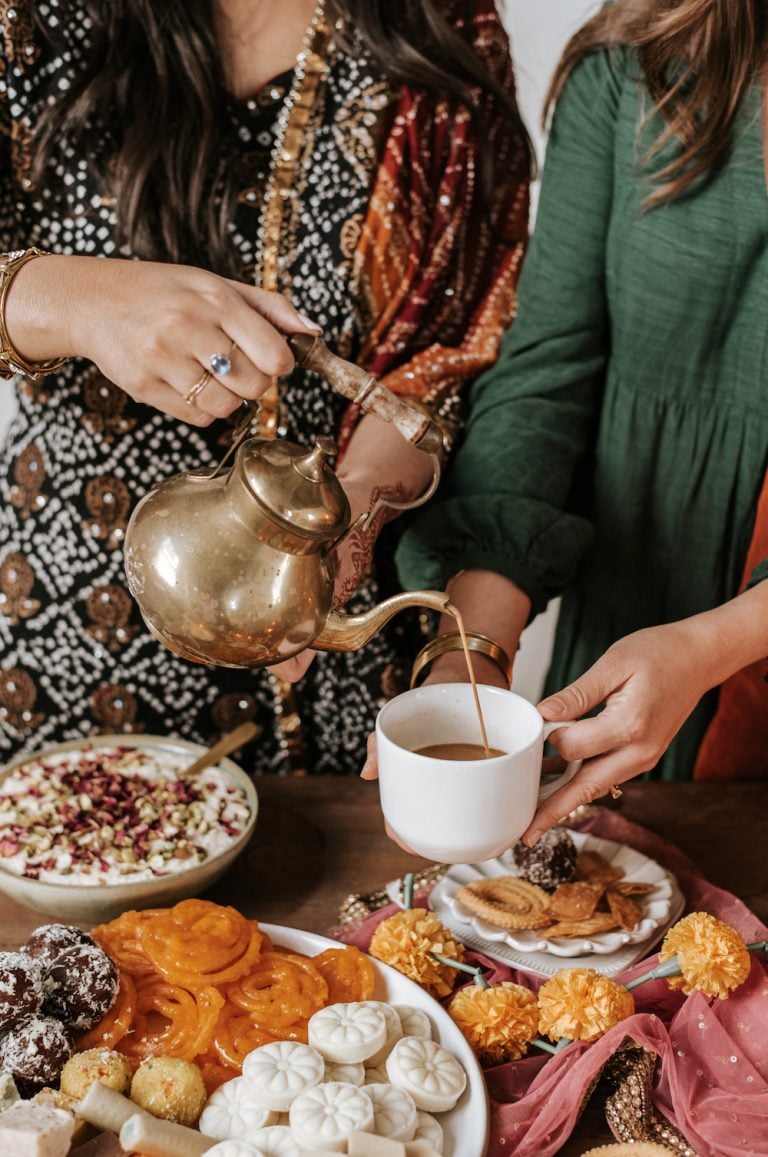 Y'all know I love my chai, and no celebration or even everyday get-together is complete without a pot of chai on the stove. Serve hot with biscuits for a post-celebration nightcap.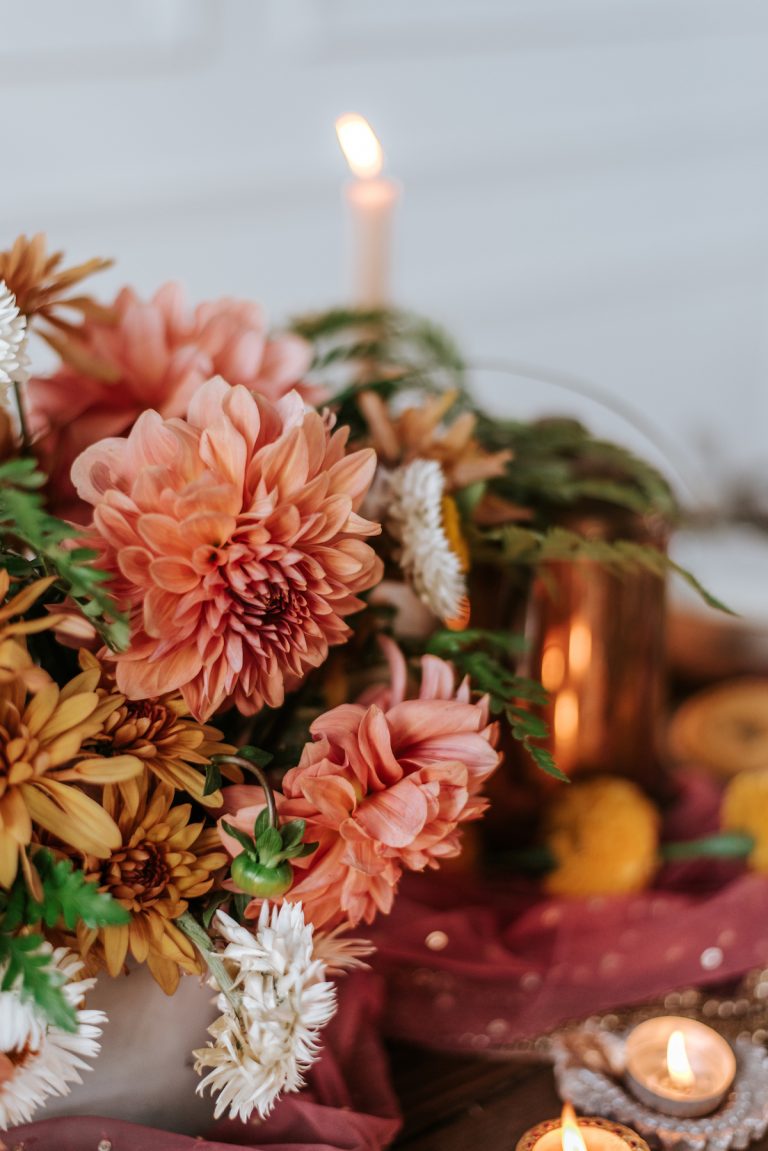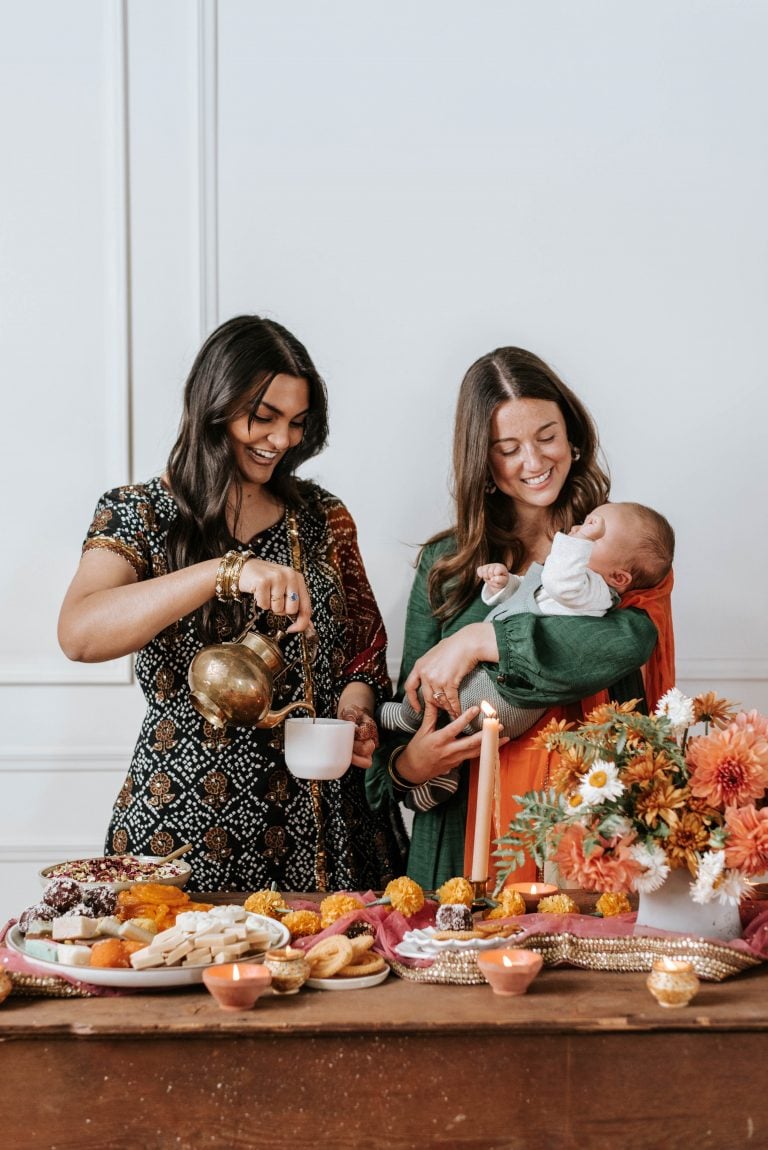 On blending old and new traditions
Sometimes I think about how being both Indian and American, that I might lose some of the Indian traditions I grew up with here because my experience with the holidays is so different to my parents experience in India. But what I'm learning to appreciate is that when you have friends and people in your life that want to be there and celebrate with you, it's possible to find a balance that honors tradition while celebrating life where you're at. It's why everyone's traditions of the same holidays, recipes, and ways of life can be different and the same all at once. I'm grateful that I can call my parents and get the recipes and traditions we grew up with to recreate them now, while also finding ways to incorporate my own style and tastes into the celebration with the people I'm with, away from home.
Even this Diwali party, as different as it was from my experience growing up, is still a version of the celebration that makes me feel connected to our tradition while taking on new meaning and significance in my life. It's a blend of what my parents came here with and the support of friends who might not have grown up celebrating Diwali, but want to be a part of that celebration for me.
No matter what holiday you might be celebrating, being with people you love and honoring traditions in ways, both old and new is what the holiday season is all about.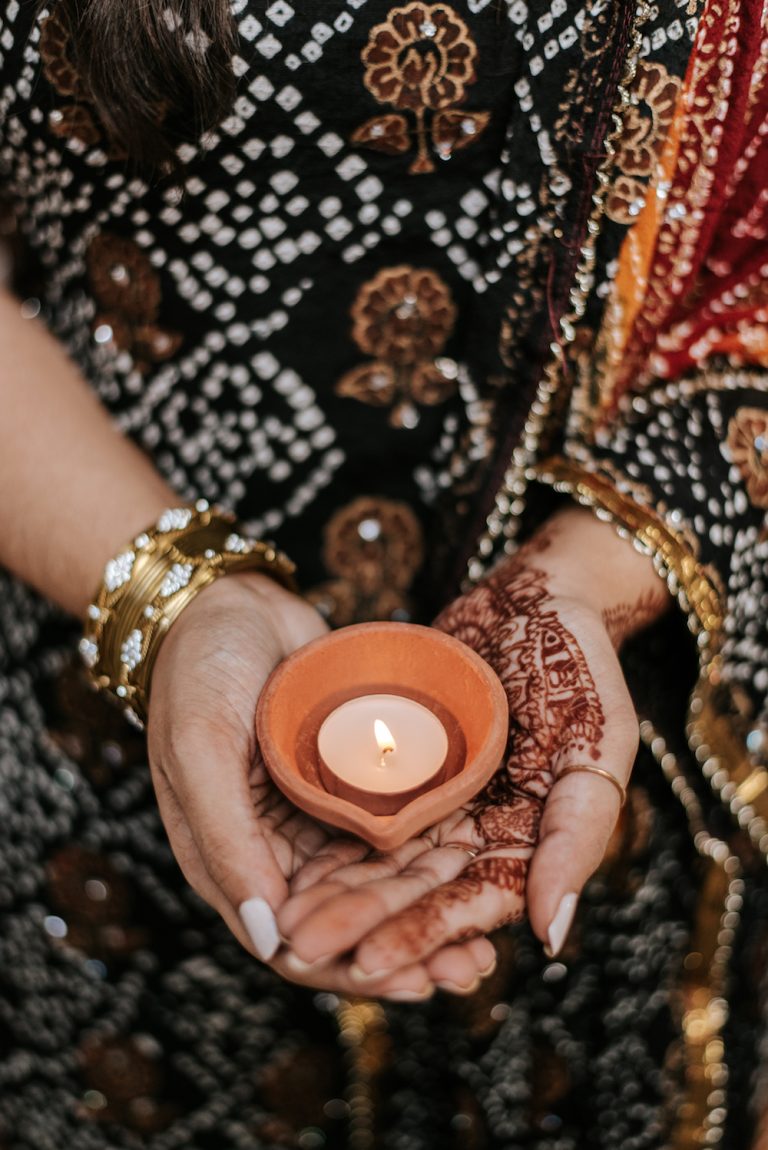 Happy Diwali to all who celebrate!